The internationally popular BetStars Sportsbook has made its way to New Jersey. It is well known in Europe, Canada and Australia – so don't be surprised when it picks up some momentum and makes a big splash now that sports betting is increasingly becoming legal in the United States. BetStars offers just about everything you'd dream of from a sportsbook, including top-notch promos and bonuses and loads of deposit and withdrawal options.
PROS: Excellent promos, strong sign-up bonus, plenty of deposit options
CONS: Newer app
MOBILE INTERFACE: ⭐⭐⭐⭐
DEPOSIT BONUS: ⭐⭐⭐⭐⭐
DEPOSITS/WITHDRAWALS: ⭐⭐⭐⭐⭐
SAFETY AND SECURITY: ⭐⭐⭐⭐⭐
CUSTOMER SERVICE: ⭐⭐⭐⭐
USER EXPERIENCE: ⭐⭐⭐⭐⭐
OVERALL: ⭐⭐⭐⭐⭐
Get a risk free first bet up to $500 at BetStars >>
BetStars Sportsbook History
The Stars Group operates BetStars which means they'll have the capacity to hit the ground running in America. They've had plenty of success all over the globe and are sure to translate their experience into a tremendous product. So far, so good in New Jersey, as BetStars' initial offering seems to hit it out of the park. As of now, it only trails the states competition in terms of public awareness. That seems likely to change, however, considering its success in Europe (primarily the United Kingdom), Australia and Canada (over $800 million per year). Additionally, Fox made a partial acquisition of the Stars Group so in the coming months, you'll see BetStars rebranded as FOX Bet.
For now, BetStars has only been authorized to operate in New Jersey but they recently announced a partnership with Mount Airy in Pennsylvania which should make them one of the first to launch business in PA. More than likely, BetStars will be among the first handful in each successive state that votes to allow sports betting. They may not be there yet, but BetStars has the upside to become the top dog in the US market within the next few years.
First Deposit Bonus
BetStars offers what amounts to up to $500 to new users. The bonus comes in stages, as you first are given a free $50 bet after signing up. After betting another $150, you'll be given your next $50 free bet. This continues, if you want it to, until you've been given $500 worth of free bets. There are a few parameters regarding the types of free bets you make, but the instructions will be clear at the time your free bet becomes available. Furthermore, your bonus will be given to you within two days of signing up.
Getting Started
When you're ready to create your account, you will need to provide your email address, username and create a password before confirming that you are at least 21 years old and that you understand the website's privacy policy. You will also have to verify your location, since bets can only be made in New Jersey for the time-being. After that, you should be able to place your first bet within just a few minutes.
BetStars Sportsbook Interface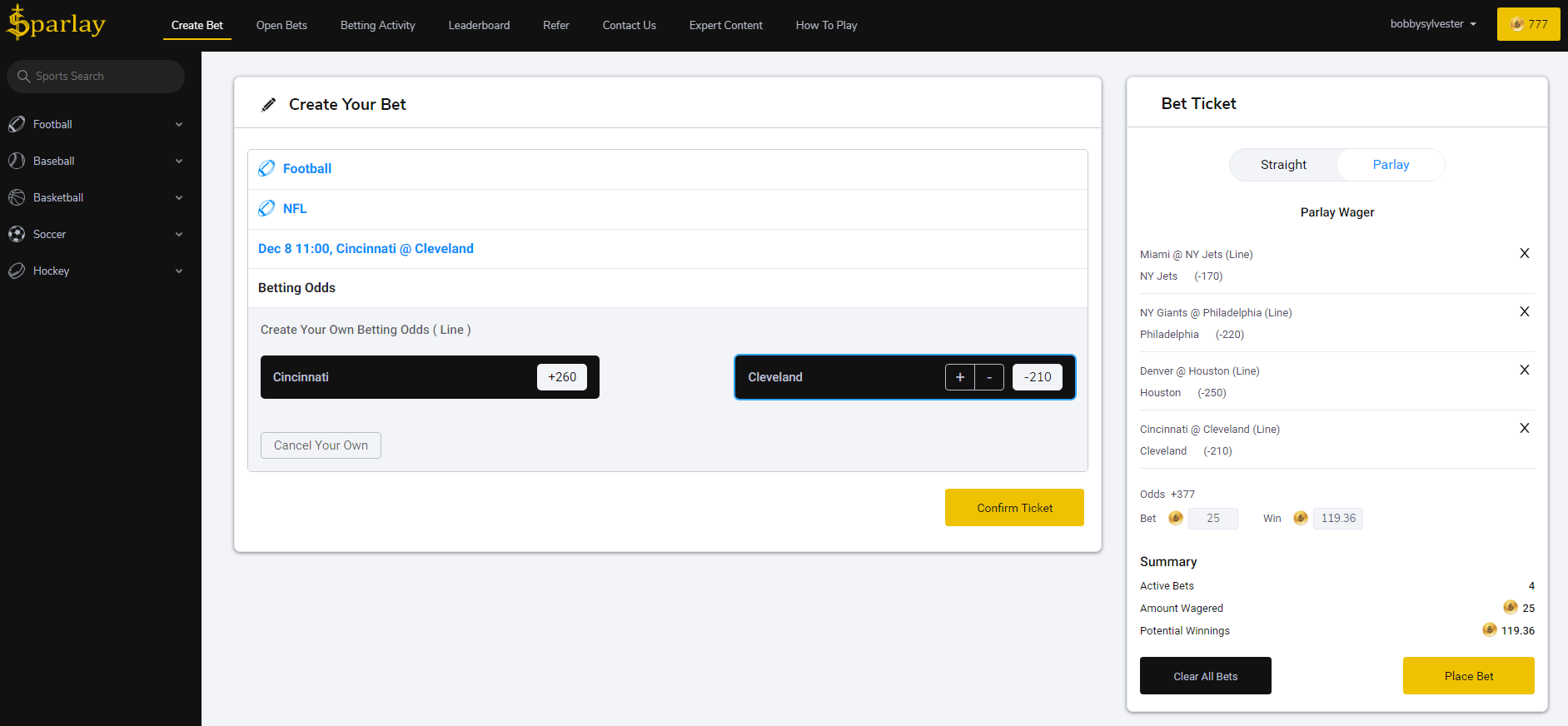 BetStars Sportsbook's mobile offering is new, so we may eventually run into some bugs that need to be ironed out – but as you can see, the early offering looks great and feels organized and easy to use. It sorts available bets by sports or bet types and doesn't clog up the page with betting options you aren't interested in. Seeing available promotions and prior betting results are quickly accessible and easy to find. The website is even newer, and may take a little while to catch up to the mobile interface in terms of sleekness.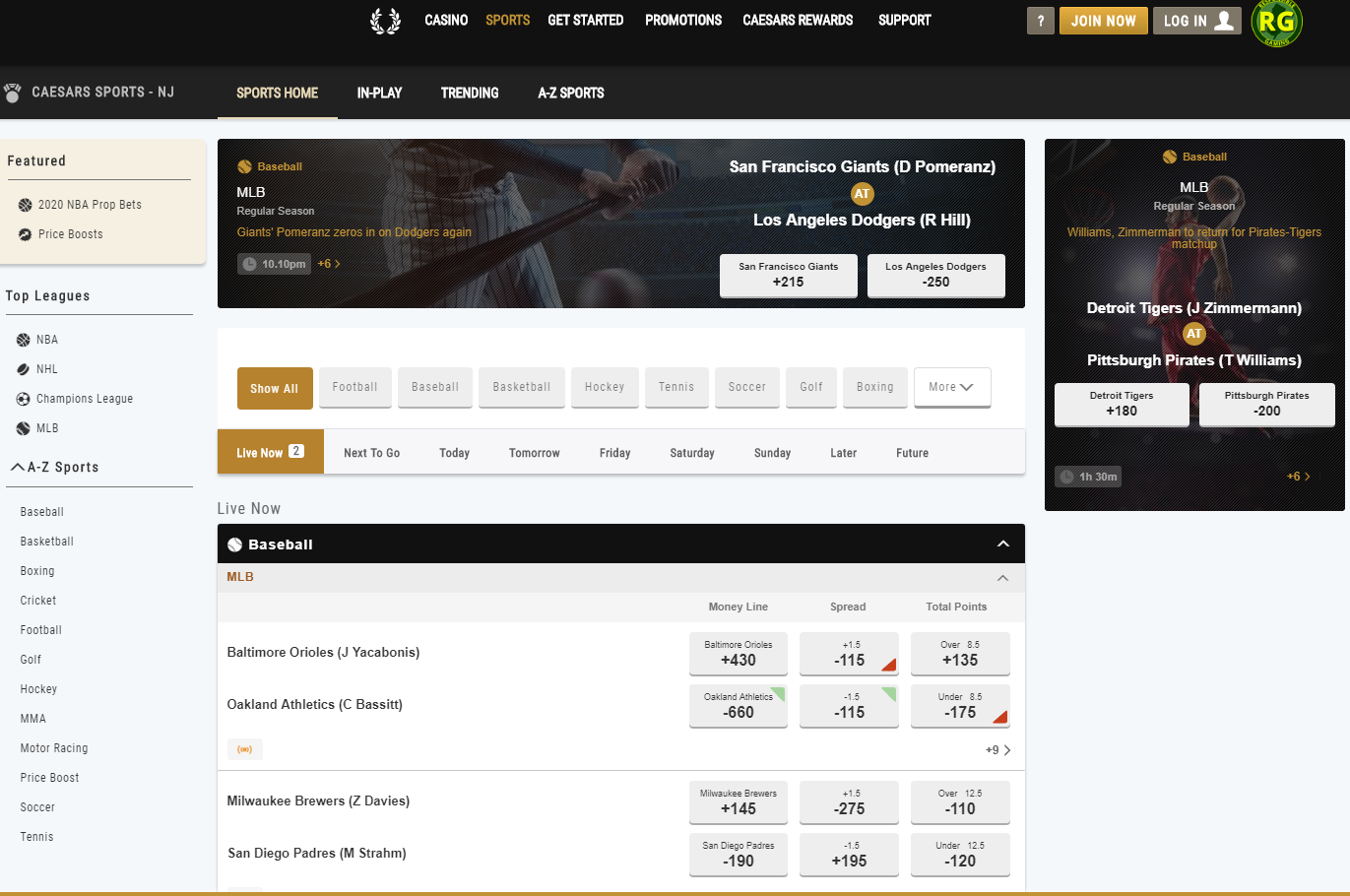 You will be defaulted to view the highlights tab which includes the most popular bets and standout games on the slate. Some more experienced bettors may prefer that to not be the initial view. Like the mobile offering, you can quickly change the view to one sport, a certain type of bet, your previous results or the promotions that are offered to you. The spacing could be used more efficiently with more information on the screen, but you certainly can't argue with the organization, as you'll never have trouble finding what you are looking for.
Bet risk free up to $500 on your first bet at BetStars >>
Deposit and Withdrawal Options
BetStars is right among the front of the pack in terms of offering numerous deposit and withdrawal options.
Deposit
ACH/Echeck: Quickly connect your BetStars Sportsbook account to your bank account using your account and routing numbers.
Bank Transfer: Send money online directly from your bank account into your BetStars account.
Credit/Debit Card: BetStars Sportsbook accepts Visa and Mastercard but take note that some banks may charge a fee for gaming transactions so it may be wise to contact your bank first.
PayNearMe: Send a PayCode through your E-wallet via text, mail, text or e-mail.
PayPal: The world's most popular E-wallet is now available on BetStars Sportsbook. It will move funds from your E-wallet into your sportsbook account.
Neteller: Connect your credit or debit card to this E-Wallet in order to deposit instantly to BetStars Sportsbook.
Skrill: If you are an international user, this will be your best method, as this E-wallet accommodates 40 different currencies.
Withdrawal
ACH/Echeck: Quickly connect your BetStars Sportsbook account to your bank account using your account and routing numbers.
Cash at Resorts Cage: All you have to do is bring your state-issued ID to the brick and mortar location after requesting cash withdrawal.
Neteller: Receive your funds in this E-wallet one day after you request a withdrawal.
PokerStars+ Prepaid Card: Transfer your winnings to a card that can be used with PokerStars+
Skrill: If you are an international user, this will be your best method, as this E-wallet accommodates 40 different currencies.
Sports Offered
You won't be surprised to find out that along with their sprawling international coverage comes a high quantity of available sports to bet on beyond the four big American sports leagues (NFL, NBA, MLB and NHL).
Boxing
Cricket
College Basketball
College Football
Cycling
Darts
Golf
MMA
Motor Sports
Rugby
Soccer (MLS and many international leagues)
Tennis
UFC
Promotions
BetStars Sportsbook will quickly become popular because of their creative promos. Beyond the initial $500 bonus, users will be given a free $5 bet for every $25 bet they make. Likewise, if you place a $5 Futures bet on any NFL team to win the Super Bowl before the end of September they will give you 100/1 odds, even on the Patriots! You'll have fun exploring all of the options including a Spin & Bet, Stars Stack, Cashout and Super Boost. Some of these promos will likely be so well received that they may become standard around the industry before long.
Bet Types
Like any other sportsbook, you'll see Point Spreads, Moneylines and Over/Unders but they also offer Parlays, countless Prop Bets and Futures bets. With BetStars, you can place penny bets if you like. Perhaps most exciting, however, is the fact that you can place in-game bets on any at-bat in baseball and every play in football.
Customer Service
Although many prefer to chat live with a representative, that is currently only available to certain customers. With that said, you will often be able to quickly get a response via e-mail (support@betstars.com) and can always contact them via phone at 437-371-5742.
Frequently Asked Questions
In which states does the BetStars Mobile Sportsbook operate?
As of now, New Jersey is the only state where sports bettors can make a wager using the BetStars mobile app. With that said, it won't be long before Pennsylvania and likely other states become options as well.

Is BetStars Sportsbook secure?
The state of New Jersey has required sportsbooks to reach certain SSL standards to ensure your safety. This is an excellent launching pad to guarantee your safety as it spreads from state to state. BetStars has not only met these requirements but offers additional features that allow you to customize your security preferences. That includes the option to add a pin, SMS validation or several other measures.

What is my maximum bet amount?
There is no established sportsbook-wide cap on what you can bet. Rather, it depends specifically on the sport, event and bet types. If you are hoping to make a bet higher than what is listed as the maximum, BetStars encourages you to contact them.
What measures does BetStars Sportsbook put in place to help me manage my gambling?
BetStars wants to ensure you are comfortable with your betting decisions so they have enabled responsible gaming options which include deposit limits, time limits, self-suspension or even self-exclusion.
What help does BetStars Sportsbook provide for novice bettors?
You may have seen "Sports Betting FAQ" prominently displayed in the embedded website interface picture. They have it front and center because many are new to the sports betting world. In this link, you'll find answers about how to use their site, the special offers they have and at the top you'll see a list of general sports betting questions that should help novice bettors get their feet under them.
Bet risk free up to $500 on your first bet at BetStars >>
More Sportsbook Reviews
BetAmerica Sportsbook
BetRivers Sportsbook
Caesars Sportsbook
FanDuel Sportsbook
DraftKings Sportsbook
Parx Sportsbook
BetMGM Sportsbook
PointsBet Sportsbook
SugarHouse Sportsbook
William Hill Sportsbook
888sports Sportsbook