Whether you're new to sports betting or a betting pro, our Sports Betting Strategy and Advice page is for you. You can get started with our 101 section — including 10 Sports Betting Tips for Beginners — or head to more advanced strategy — like Key Numbers When Betting Against the Spread — to learn more.
While sports betting can certainly be profitable, it may take bettors awhile to build their bankroll. Traditional bets like betting against the spread or on totals produce profits that are less than one's original wager. Therefore, betting two spreads at the same odds, and going 1-1 will result in a losing day money-wise overall.
It's hard to find many single-game wagers that pay out odds of better than 2:1 or 3:1. However, there is one type of bet that has a "lottery ticket" type of feel: a correct score bet.
In this article, we explain what a correct score bet is and how to make such a bet at a sportsbook.
Claim your FREE bet up to $500 at FanDuel Sportsbook >>
What is a Correct Score Bet?
A correct score bet is a wager that predicts the exact final score of a game. If your correct score prediction does not match exactly to the final score of the game, you lose. Given how difficult it is to predict the exact score of a game, odds for a correct score bet can often be found at 10:1 or better.
Based on the scoring structure of certain sports, correct score betting odds will not be offered on every sport. For example, NBA basketball teams routinely score more than 100 points. To predict an exact final score in a game with that much scoring is downright impossible.
For that reason, correct score bets are much more commonly offered in baseball, soccer, and hockey. There have been sportsbooks that offer correct score bets on football games, but they may limit such action to the biggest games like the playoffs or Super Bowl.
What is an Example of a Correct Score Bet?
The following is an example of correct score betting odds from a soccer match between Russia and Saudi Arabia, graphic courtesy of bet-types.com.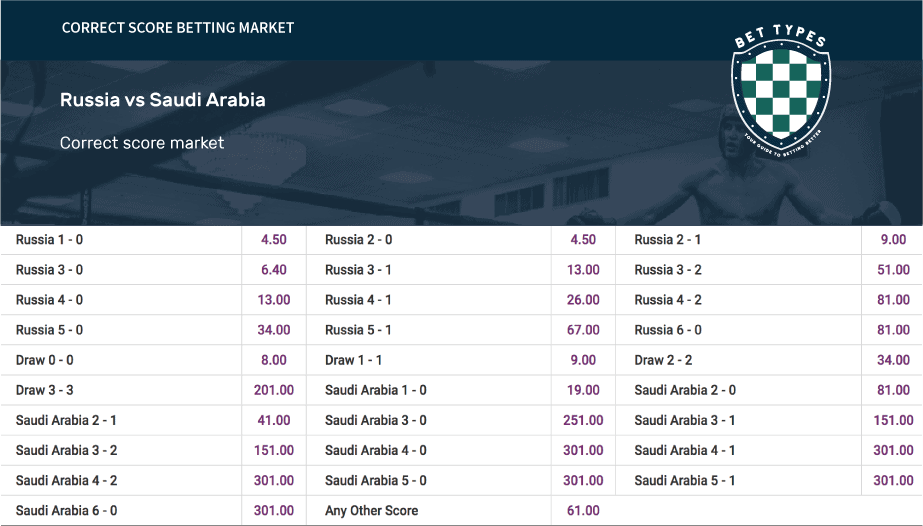 Since goals are usually at a premium in soccer matches, you will notice that the smallest odds are the scores with the least amount of goals. For example, for Russia to win by a score of 1-0 or 2-0, one would win 4.5 times their original wager. However, there are some offerings that would pay out more than 300 times one's original wager!
Another thing to take note of is the "any other score" option. As you can see from the table, the final score options end with each side winning 6-0. What if Russia were to score seven goals, or win by a score of 6-1? Placing a wager on the "any other score" option would take into account these scenarios. An "any other score" bet would cash if the final score of the match was one that was not already listed in the table.
How Do I Make a Correct Score Bet at a Sportsbook?
On a mobile device or app, follow these steps:
Log into your sportsbook account.
Find the league and game you wish to bet on.
Look for a heading that says "Game Props" or "More Wagers."
Find the heading that says "Correct Score" or some variation of that.
Click on the final score you wish to wager on.
Type in the amount of your wager.
Review the odds and click "place bet."
When making a correct score bet in person at a sportsbook, make sure you are very specific in your wording. Tell the cashier you wish to make an "Exact Correct Score" bet. By wording it this way, the cashier should not confuse it with making an against the spread bet. Tell the cashier the exact final score you wish to wager on. Your bet and the subsequent odds will appear on a screen in front of you. If these odds are agreeable and the cashier inputted your bet correctly, tell the cashier your wager amount. Lastly, hand your money to the cashier and take your betting ticket with you.
Check out our FanDuel Sportsbook review and promo codes >>
Mike Spector is a featured writer at BettingPros. For more from Mike, check out his archive and follow him @MikeSpector01.