Whether you're new to sports betting or a betting pro, our Sports Betting Strategy and Advice page is for you. You can get started with our 101 section — including 10 Sports Betting Tips for Beginners — or head to more advanced strategy — like Key Numbers When Betting Against the Spread — to learn more.
Often times, sports bettors will look at a spread on a game and believe they definitively know the right side. In some instances, bettors may feel so "locked-in" that they not only know who will cover but how many points a team will win by.
If a bettor thinks they can be more precise with their bets to the point that they know what the winning margin will be, there is potential for great payouts.
In this article, we explain what a winning margin bet is as well as how to make such a bet at a sportsbook.
Claim your FREE bet up to $500 at FanDuel Sportsbook >>
What is a Winning Margin Bet?
A winning margin bet is a wager on the final result of a game, within a certain range of points. In other words, one would be wagering on which team will win and a range of points which they will win by.
What are Examples of a Winning Margin Bet?
The following is a graphic from BetOnline (since published by gambling911.com) from an old prop wager on Super Bowl LII.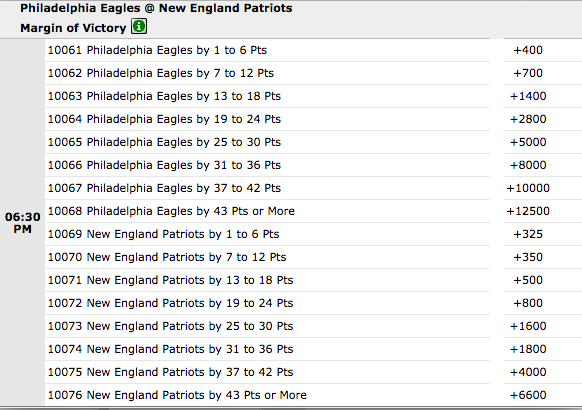 As you can see, there were different odds associated with each various range of outcomes. Since it was considered highly unlikely one team would beat the other by 43 or more points, it becomes clear why the payout was high for that bet.
The final score of Super Bowl LII was 41-33 in favor of the Philadelphia Eagles. Thus, anyone who wagered on "Philadelphia Eagles by 7 to 12 Pts" cashed their margin of victory bets. The payout on that bet was +700, meaning a bettor netted seven times their original wager in profits.
This fact is why wagering on winning margins is so enticing. If a bettor had bet $100 on the Eagles moneyline of +165, they would have profited $165. However, those bettors that were more precise and predicted the Eagles would not only win but win by anywhere from 7-12 points would have turned a $100 bet into a profit of $700.
Here is another example of a baseball winning margin bet courtesy of Bovada.lv (since published by sportsbetlistings.com):
The biggest takeaway is that baseball's winning margin offerings are not released as ranges like other sports. Since baseball is a lower-scoring sport than football, the odds need to be altered. Thus, the only true range offered in this particular case was either team to win by four runs or more.
How Do I Make a Winning Margin Bet?
On a mobile device, every game should have an option that says "More Wagers" or Game Props. After clicking this option, look for a heading that reads "Winning Margin" or Margin of Victory. Then, identify the team you think will win and the range of points they will win by. Review the odds, then decide on your wager amount. If all looks good, you can confirm your bet.
In-person at a sportsbook, you need to be specific about a bet like this. If you are unclear, a cashier may think you simply want to make a bet against the spread. Instead, tell the cashier you want to make a "winning margin" bet on a game. Once the cashier hears these words, they will know exactly the prompts to follow. Just like on a mobile device, identify the winning team and margin of victory you wish to bet on. Always review the odds that appear on the screen before handing over your money to the cashier.
In some cases, it may be considered wise to hedge your bet with different margins of victory. In the example of Super Bowl LII, bettors who believed the Eagles would win would have been wise to wager on multiple scenarios like winning by 1-6 points, etc. However, it comes with the territory that each additional wager will cut into your overall profits since only one margin of victory bet can be correct.
Check out our FanDuel Sportsbook review and promo codes >>
Mike Spector is a featured writer at BettingPros. For more from Mike, check out his archive and follow him @MikeSpector01.